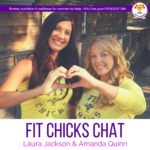 Fitness Coaches Without Online Offerings Are On Shaky Ground.
With everything that is currently going on in the world, Fitness & Health Coaches MUST know how to pivot as needed in their business.
That means being able to quickly transition to run your programs, classes and coaching from in person to the online space (or vice versa if needed)…Or if you are just starting your fitness business, you must be able to launch your online fitness and get up and running NOW instead of waiting. In this episode, we take you through the top 6 areas you need to focus on to get your online fitness business up and running in the next 21 Days and beyond!
Take your fitness business online! Visit www.fitchicksacademy.com/21DAY for more info on our upcoming 21 Day Online Business Accelerator Coaching program