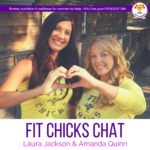 One of the biggest questions when it comes to starting in holistic nutrition & health coaching is "How can I make money?!"
In this episode, the Head Chicks take you through the top 8 ways you can generate income in 2020 as a health coach – in person and online – that will not only make more impact & more income but will make sure you are never bored, constantly challenging yourself and helping more clients in the process.
With the Health Coaching market growing to over $7.85 billion by 2022, with 121,000 coaches practicing, it's safe to say that the health coaching industry is booming and it's only going up from here. It all depends on how YOU want to approach and the sky is the limit!
If you are ready to become a certified holistic nutrition & health coach, please visit www.fitchicksacademy.com/hwlebrochure for more info on our upcoming Holistic Nutrition Weight Loss Expert Certification.