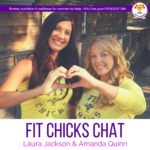 Including yoga and meditation into my life was truly something I attribute to completing my own transformation and assisting me through some of the darkest times in my life. It allowed me to find my breathe, my awareness and my own safe haven internally even when the waters outside seemed pretty rocky! To this day I still use meditation to safely ground me and create a fresh energy to start my day.

While this was my own experience, Author and renowned yoga and mindfulness teacher Stacy Dockins shares with me that her own journey started out with using yoga for fitness and health. She desired the health benefits from the asana practice and found a deep rooted love and appreciation for the practice through practice. It was through time and practice that she noticed the other benefits and how life changing this journey was becoming.

In today's episode of FIT CHICKS Chat we have Stacy joining us to share her thoughts on mindfulness, mediation and yoga. She discusses why this journey started for her, how it transformed, what mindfulness means to her, why mediation can help and how you can get started today with adding a mindfulness practice to your everyday with simple easy steps.

We also cover why it is a practice and how you need to let go of the idea that your mind will "stop racing" and instead embrace the idea that as Stacy said "The mind thinks like the heart beats".