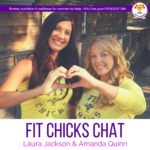 Being an entrepreneur is not for the faint of heart, especially when you are just starting out. You have so many hats to wear, so many things to learn and the idea of where to begin can seem like you are just throwing spaghetti at a wall to see what sticks.

When we started Fit Chicks in September 2008 we felt the same as you! WE were overwhelmed even though we had business education and background it felt like all new learnings every day! Fast forward and we finally felt like we were figuring it all out until we decided to start running an online business then it felt like square one all over again. So much to learn and so much to do but you know what didn't change, these three principles we are sharing with you today! See, when you have these three essential ingredients for your business you already have your foundation and the rest is like your décor.

So grab your paper, pen and get ready to take some notes because if you are missing any of these 3 foundational pieces for your business, you now have some homework to do!
For more info on FIT CHICKS, visit www.fitchicksacademy.com To get full episode show notes and recap click here