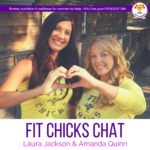 With many peeps rocking Spring Break right now, you not only want to look your best but feel it too!
We are not talking about dropping 10lbs in 10 days but some quick, all natural strategies you can do to help your body de-bloat, digest and feel your leanest while rocking your bathing suit.
In this episode, Founders of FIT CHICKS Academy Laura & Amanda are taking you through the keys to a speedy Spring Break Slimdown done chick style.  These simple shifts that the Head Chicks use in their own nutrition and with clients that will have you feeling like a lean, mean healthy machine and enjoy your Spring holidays!      For more info on FIT CHICKS, visit www.fitchicksacademy.com To get full episode show notes and recap click here.