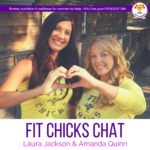 Joining us on FIT CHICKS Chat this week is one of our main sources of continued inspiration for our own fitness journey and business, Jillian Michaels.
Jillian Michaels is the world's leading fitness expert, renowned nutritionist and successful entrepreneur. With an international community of followers exceeding 100 million, Jillian's dominance in health and wellness extends to hit television series, successful fitness DVDs, a popular exercises streaming platform, 8 New York Times bestselling books, an award-winning podcast, live speaking engagements, a new fitness app, popular social media channels and a list of key business partnerships and investments.
Jillian joins us today to chat all about finding balance in life, her 12 hour rule, cardio vs strength, breaking away from routine, what inspired her for her app, streaming websites and who in the industry she loves. We also cover off the evolution of fitness at home and her advice on what to do if you are just starting out on your fitness journey or if you are looking to up the ante. This interview is one not to be missed! 
For more info on FIT CHICKS, visit
www.fitchicksacademy.com
.  To Get Full Episode Show notes and recap
click here
.