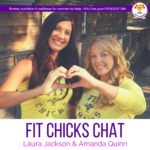 On today's episode we have a super special guest, the awesome curvy style authority (and our good friend!) Meredith Shaw! Model, Radio Host, Singer, Writer & Style Expert, Meredith is not only gracing covers or walking the runway as a top plus size model, her work empowering women to feel fabulous in their skin and love their bodies can be seen regularly on CTV's "The Social" and monthly in Canadian Living Magazine where she is creator of the only plus size style column #WeTheCurvy.
In this
interview
, Meredith shares her story of finding self love and body positivity, how she is creating the #WeTheCurvy movement to help women of all shapes and sizes feel fab about yourself – no matter what- and her top tips to stop fighting your body and be healthy & balanced from the inside out..  She also shares her biggest advice to mindset shifting to acceptance and how to get rid of the negative self talk for good! For more info on FIT CHICKS, visit 
www.fitchicks.com
.  Get Full 
Episode
 Show notes and recap,
click here
.