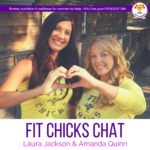 Even after being in the nutrition & health coaching industry for 15 years, we STILL hear the same buzz words, tactics and beliefs thrown around when it comes to weight loss. They are like urban legends…there is a grain of truth in them but over time these myths have built up momentum and before you know it, coaches & women start to think they are the truth. Then are left wondering why you aren't getting results #sofrustrating
In this episode, Head Chick4 of the top weight loss coaching myths we hear constantly to this day and my 2 cents on what to do instead!

Last Chance to become a  Certified Holistic Nutrition Weight Loss Coach this Spring?  Our next 8 week program starts May 30th so make sure to check out   www.fitchicksacademy.com/hwlc to see how you can get started!