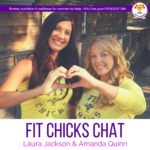 Fitness for me, has always been about the way my body felt, the way it made me feel in my own skin and the way it made me feel energetically. After looking back at my own journey of fitness and how it began, I want to share today my top life lessons that moving my body in new ways taught me.
Share in the comments, what is something you learned through movement?
Check out www.fitchicksacademy.com for details on our upcoming certifications!