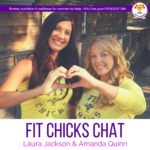 While running your own fitness or nutrition biz – full OR part time- is the most rewarding and fun job, it comes with a ton of high & lows.  What most people don't talk about is what to do when you feel like you are failing in your biz and how do you stay positive and focused to keep going.  In this episode, we are tackling how to clear the clutter, stay motivated toward your goals even when things are not going your way and what we use in our own business that has kept us growing over the last 12 years during the hardest times.
Get  certified holistic nutrition & health coach!
Visit www.fitchicksacademy.com/hwlebrochure  for more info on our upcoming Holistic Nutrition Weight Loss Expert Certification.